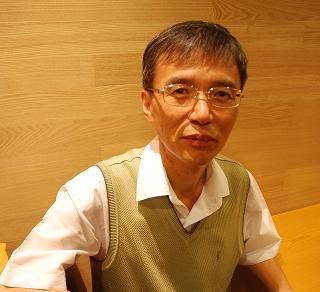 CBT met Kim Myeong-soo, who is a representative of People Korea. People Korea is an Internet newspaper which specializes in interviews. He interviewed many people throughout the country. He can inspire students to see the world in a wider perspective. Let's listen to the story about the way to see the world by Kim Myeong-soo, who is also a alumnus of CBNU. -Ed
When he was a university student, he is a quiet and passive man. The only thing he loves to do is writing. Writing is the only way to express himself. Today, he is a reporter. He meets many people and reports their stories to the world.
How can an introverted person become a reporter who interviews people? When he was a university student, he was certain that being a reporter was his way. He was fascinated with writing articles because it had nothing to do with his background and he was evaluated just by his articles. Being a reporter turns out an ideal job for him.
He has a tremendous enthusiasm for the interviews, so he has as many as two interviews each month these days in spite of his hair turning grey. That is his secret to establishing People Korea and run it successfully.
In 1997, his newspaper office was buzzing due to restructuring during the IMF crisis. At that time, he decided to begin something special after he quit his job. What is specially noteworthy is writing, and he thinks people move the world, so he thinks he has to do interviews.
Therefore, he established People Korea, which specializes in interviews, and he decided keep his newspaper to the death. He rejected directorship, which is better guaranteed job security, and he was never afraid during the 1997 financial chaos because he had passion about what he wanted to do. "It is so valuable that people are encouraged and helped through my articles" A feeling of pure happiness can be seen on his face.
His interviewees are not celebrities but ordinary people who are strenuous workers in their fields. He thinks it is meaningful to interview people who are ordinary, but special and he encourages other people to pull out their stories and share them with readers. He thinks it is more valuable to play second fiddle rather than interviewing celebrities who are too often reported by many newspaper offices.
He said that life is a consolation match. If you struggle, you will have opportunities to overtake and reach the heights though you fall into despair now. He said that his work is recognized in his fields because he makes a constant effort with a positive mind despite his bad surroundings. "The most important thing is living a life without regrets at this moment," he said.
He challenges himself with other work such as writing novels and expanding his field. He is also writing English articles to keep up with age of globalization. His wrinkled eyes were shining with vitality as much as a young man's eyes. His enthusiasm has never dimmed over the years, and it give a fresh impact to students who are exhausted by preparation for jobs and studying.